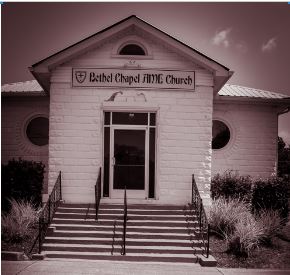 Bethel African Methodist Episcopal Church was organized in 1889 by Rev. Isaiah Gholson who was pastor of Saint Paul A.M.E. Church and Presiding Elder of the Columbia District. The purpose of the church's organization was to provide a place of worship in the College Hill area. Isaiah Gholson (sometimes Gholston) was well-known as a preacher and a builder. He learned the brick-laying trade from his owner, Anthony Gholson, who bought the 12-year-old boy for $1,200 in 1860. Isaiah was destined to rival his master's skill as a master brick mason. After the war, he assumed his master's name, although he seems to have used the spelling Gholston.
An early Trustee of Bethel A.M.E. Church was Dr. J.C. Halfacre who practiced medicine for 18 years before his death in 1896. He was possibly the first black ever to be part of city government, serving three years as an alderman from the third ward. Other Trustees were Isaiah Gholson, George Cooper, and Pete Kittrell. In 1890, he along with the other trustees laid the cornerstone of what was called Isaiah Gholson Church on the corner of Glade and Helm Street (Helm is East 11th Street today).
The Church was completed in 1892 and there was a Masonic Hall in the upper story. Later this building was called Gholson's Hall and was a popular meeting place for the residents there. The old Gholson Hall was the first place of worship for the new congregation composed of these families: The McDonald's, David Daniel, Rev. Perry and family, and William (Button) Brown, Rich Webster, Albert Fleming, (Bully) Young, Louise Walker, (Did) Fitzpatrick, Jim Morton, John Joyce, W. C. Woodard, Eli Smith, and others.
Rev. Isaiah Gholson, a local preacher, and businessman, (an owner of several acres of land), was the first pastor of "Little Bethel" as it was called then, but in 1904 the church had increased to 80 members, and the word "little" was dropped. A new church was built under the pastorate of Rev. T. W. Hampton in 1908. In charge of the Sunday School was Prof. S. H. Hardy. Isaiah Gholson died on November 26, 1922. He is buried in Rosemount Cemetery. He was survived by his wife Kate Gholson.
On April 13, 1935, property described as a lot or parcel of land, situated in the 9th civil district of Maury County, Tennessee, in the third ward of the city of Columbia, bound on the North by the Church or parsonage property, formerly Kate Gholston, East by Brown, South by 11th Street and West by Glade Street, fronting West on Glade Street, 50 fee running back between parallel lines East 104 feet to Brown lot or alley, was a part of the real estate devised to said Kate Gholston by the will of Isaiah Gholston deceased and was sold and bought for the sum of Two Hundred Fifty ($250.00). One hundred and fifty dollars was paid in cash, and the sum of $25.00 was paid each month of September 1935, December 1935, March 1936, and June 1936. Trustees of Bethel A.M.E. Church at the time were C. C. Ewing, W. C. Woodard, T. L. Buford, E. G. Lowery, Joe Braden, and Harrison Whitaker. The present edifice was erected in 1938 during the administration of Rev. W. R. Greenfield, who later returned in 1960 and liquidated the mortgage on this building. He later added an education wing. *Rev. Greenfield is remembered for holding the longest tenure as a pastor of Bethel.
Among the many ministers who have served the church through the years are:
Bethel AME Church was renamed to "Bethel Chapel AME Church" under the pastorate of Rev. R. L. Bailey after Henderson Chapel AME Church and their pastor Rev. Pattie Hardimon merged with the Bethel church membership.
In 2004, Rev. Trent L. Ogilvie was appointed the pastor of Bethel Chapel by Bishop Vashti Murphy McKenzie. Rev. Ogilvie demonstrates great faith and visionary leadership encouraging church members to grow spiritually and inspiring community action with Christian love. In 2010 under Rev. Ogilvie's leadership, Bethel Chapel completed the renovation of their sanctuary and fellowship hall as they celebrated 120 years of ministry and Christian service to the glory of God. The renovation was possible through the generous financial contribution of the late Edward and Samuella Kimes, who were lifelong devoted members of Bethel Chapel. *Rev. Dr. Trent L. Ogilvie is also one of the longest tenured pastors of Bethel Chapel, serving faithfully for 17 years.
Bethel Chapel continues to serve the East Columbia community with spiritual enrichment, loving outreach, and servant leadership. Mrs. Ida Love Harlan wrote some historical facts about Bethel Chapel AME Church. She ended with these words, "Bethel has weathered the storms of life in serving the Kingdom of Christ; today it stands as a beacon light giving hope, courage, and inspiration to all who enter its doors."